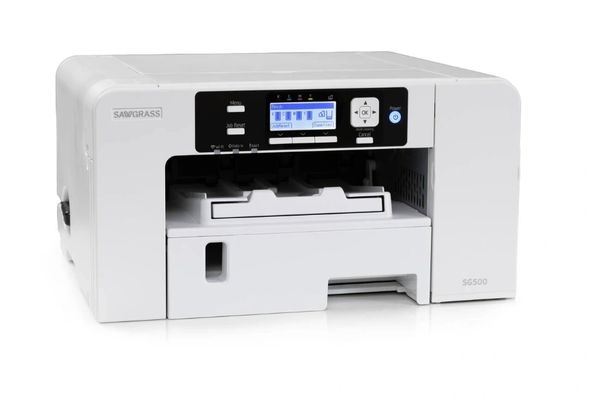 Sawgrass SG500
1 x Sawgrass SG500 A4 Sublimation Printer
1 x Sublijet UHD Black Cartridge (20ml or 31ml)
1 x Sublijet UHD Cyan Cartridge (20ml or 31ml)
1 x Sublijet UHD Magenta Cartridge (20ml or 31ml)
1 x Sublijet UHD Yellow Cartridge (20ml or 31ml)
1 x Sawgrass Power Driver
1 x Creative Studio Software (PC / MAC) - (cloud based with licence)
1 x Power Cable
1 x 100 sheets Sawgrass Truepix A4 sublimation paper

There are 2 options for cartridges, you can either get Starter Inks (20ml per cartridge)
or Full Capacity Inks (31ml per cartridge)
The Sawgrass SG500 is a desktop A4 dye sublimation printer.

Dye sublimation is a process where you print your artwork using special inks onto special paper. You then apply this to specially receptive products, eg garments or mug using a heat press. At the correct temperature the ink turns into a gas and fuses into the product, giving a long lasting, vibrant image.
High Definition Printing
The SG500 printers are the the only printers designed specifically for sublimation printing. Using the Sawgrass SubliJet-UHD inks, the SG500 printer delivers the highest resolution prints possible for vibrant, ultra fine photo quality reproduction at up to 4880 x 1200 dpi. Using a multi cartridge ink system (black, magenta, cyan and yellow), the SG500 printer driver unleashes up to to 687,754 colours out of just those 4 cartridges and the new UHD inks gives deeper black than any other ink before. 

Faster Speeds, Greater Productivity
The SG500 is over twice as fast than their Ricoh predecessors and 50% faster than the SG400, meaning you can print up to 240 prints per hour. The printer has a built in self cleaning routine ensuring that the printer is running at its optimal performance.

Wi-Fi
The SG500 comes as a wifi enabled printer, no longer restricting you to the length of your USB cable.

Easy Expansion Options
The optional Bypass Tray extends maximum media size up to 216x1295mm (8.5x51 inch). The SG500 also has an additional 250 Sheet Paper Feed Tray option, which enables you to keep multiple paper sizes ready to print on demand.

Service and Support
All SG500 systems come with access to PartnerPlus, Sawgrass's comprehensive user support program which offers real time help with system troubleshooting and assistance with colour management software.
Whilst you can use the SG500 using an existing software package such as Corel or Photoshop, SG500 printers come bundled with the feature rich Creative Studio 2020 software.
Online Designer
Design from any internet-connected device - desktop, tablet or phone - no experience necessary. Quickly create proofs for your clients using Windows, Mac and Android platforms. 
Product Templates At Your Fingertips
CreativeStudio has hundreds of product templates direct from the most popular substrate manufacturers.
Image Library
Browse over 500 editable design templates and over 5,000 graphics, photos and images. Each image has been hand selected or designed for popular applications, such as sports products, personalised gifts, garment decoration and photo products.
Free Cloud Storage
Included with Creative Studio 2020 is free online storage of your templates, print-ready files and uploaded images. 
CS Print Manager Web2Print Software
Design online and save to the cloud. With just a few clicks, you can output these to your SG500 printer using CS Print Manager software.
In A Rush?
Get up to speed quickly Creative Studio 2020 online video tutorials.